Giving credit where credit is due doesn't always happen, and the lighting in interior design is the unsung hero. Nobody will notice their genius if our unsung hero does their job correctly.
In the world of interior design, lighting is the element that creates beautiful spaces and makes works of art even more stunning. But our attention gets caught up in looking at the exquisite furniture or decor of the area we illuminate, and consequently, it is the space and decor that get all the credit and attention – not the lighting.
In many circles, the lighting is considered the unseen artist. This unseen artist works its magic, highlighting the many elements of the space, thus giving shine to the polished floor or furniture but accenting them differently.
Setting the mood of a space depends on the lighting. Specific lighting choices can transform a bare room into a cozy space that fosters creativity. Here's an example – bright white lighting can make a small room seem larger, while soft, warm lighting can create a romantic and intimate atmosphere.
There are three basic types of lighting – ambient, task, and accent lighting. Ambient lighting is called the "natural lighting" of the room. It sets the overall light level and can originate from lighting sources such as recessed lights, chandeliers, or just about any other fixtures.
Task lighting, as the name suggests, is for a specific task, like reading, working on a project, or even cooking. Sources for this type of lighting can come from desk lamps, pendant lighting, or under-cabinet lighting.
Accent lighting highlights specific items such as artwork, architectural details, and furniture. One beautiful example would be highlighting a grand piano. Although it is already elegant, highlighting makes it a showpiece.
Lighting finds beauty and accentuates it. Ahh, the magic of lighting – it is our hero. For more information on our professional custom lighting design services, please visit ADGlighting.com, or email info@adgmail.com.
From the Jobsite
Mirror mirror on the wall. Floating frame mirror w/LED…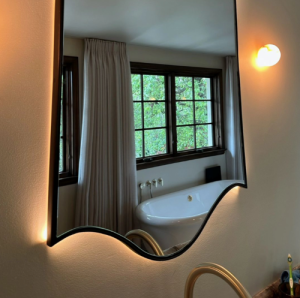 by Gerald Olesker, CEO, ADG Lighting