AGOURA HILLS, CA – May 14, 2014 – Architectural Detail Group, the parent company of ADG Lighting, has been selected for the 2014 Best of Agoura Hills Award in the Interior Decorators category by the Agoura Hills Award Program.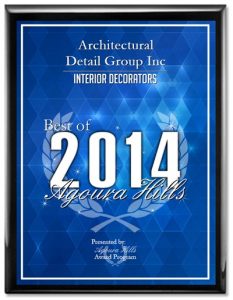 Local companies are selected based on their exceptional marketing success in the local community, and help make the city of Agoura Hills a great place to live, work, and play. "We are honored to have received the recognition," said Gerald Olesker, founder and CEO of Architectural Detail Group. "Our company was founded on the overall mission of quality craftsmanship and dedication to our clients. We have implemented practices that contribute to our company mission," he said.
Winners are determined based on information gathered by the Agoura Hills Award Program as well as other data provided by third parties.
About ADG Lighting
ADG Lighting, a subsidiary of Architectural Detail Group, is a custom design and manufacturing firm specializing in high-end residential and commercial spaces. Based in Agoura Hills, the company works with restaurants, hotels & resorts, and landmarks worldwide providing high caliber design and sustainable lighting solutions.
About Agoura Hills Award Program
The Agoura Hills Award Program is an annual awards program honoring the achievements and accomplishments of local businesses throughout the Agoura Hills area. It was established to recognize the best of local businesses. The organization works exclusively with local business owners, trade groups, professional associations and other business advertising and marketing groups. Their mission is to recognize the small business community's contributions to the U.S. economy.