Another celebrity home adorned with ADG Lighting is making headlines! It turns out NFL star and Good Morning America Host Michael Strahan has just rented an Italian style villa with his fiancée Nicole Murphy in the Beverly Park area of Los Angeles, formerly owned by a Russian businessman and his wife. The elegant estate features our custom made chandeliers and exterior lanterns.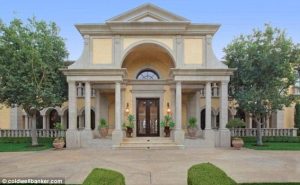 The lanterns were inspired by Italian iconic 18th century pieces. Then design extraordinaire Gerald Olesker added a modern influence to the pieces.  All were made in solid brass and heavily oxidized; the sandblasted seeded glass clipped corner cubes are suspended from a brass forged arm.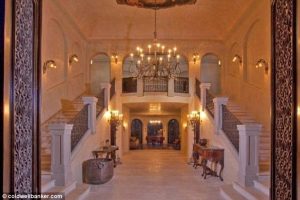 The 10,575 foot property, with 8 bedrooms, 10 baths, a guest house, and a resort style pool, is worth an estimated $20 million. Other famous neighbors who have lived in the area include Wayne Gretzky, Mark Wahlberg, and Tim McGraw.
The magical touch of ADG's own Gerald Olesker is also seen throughout 22 other homes in the exclusive Beverly Park and the North Beverly Park HOA. Olesker and his team did some work for another celebrity who resided in the Beverly Park area –Wheel of Fortune letter turner Vanna White.
Learn more about the lighting in Strahan's home in our previous post about the property.